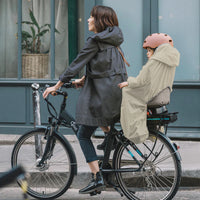 Rainette bicycle rain cover for child seat
All prices incl. taxes*
plus shipping
Even on the back seat, it can't cloud a little water
We always thought: We ride our bikes in wind and weather. Well, until the first child came. There's just really nothing more annoying than first a wet seat and then putting a child in it, which is then soaking wet (and whiny) from below AND at the first traffic light from above. But there is a remedy: the chic rain cover from Rainette.
The details:
One size: from 9 months to 4 years
adapts to the respective bicycle seat at the front and rear
Colour: mustard yellow | beige
Fabric: 100% Oeko-Tex 100 certified polyester
Retroreflective tapes: 3M
Resistance up to 5000 mm water column
Weight 256g
Why Rainette convinces us?
keeps dry :)
Sleeves to allow the child to use their hands
Sleeves wide enough for thick jackets
Reflective seams
Hood big enough for the helmet
Heat sealed seams
integrated storage bag
★ Delivery time: approx. 3 working days after receipt of payment | International: 5-7 business days