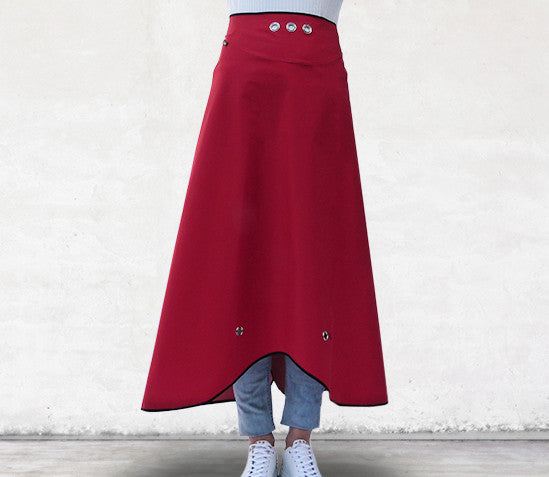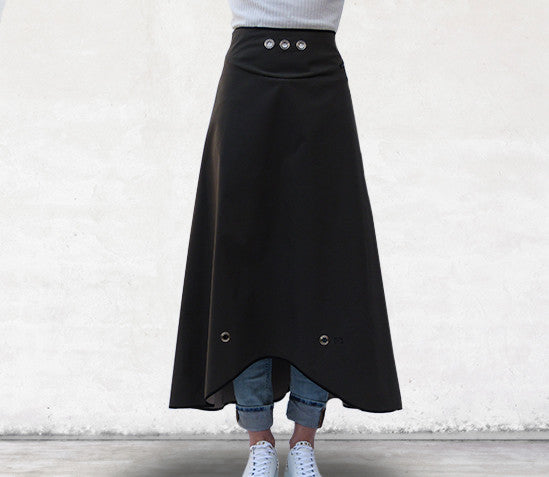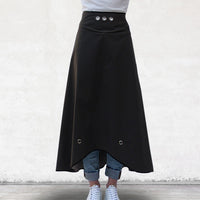 all prices incl. taxes
Practical maxi skirt that protects from the rain from the waist to the calves. Simply tied around like an apron and closed with Velcro at the back, the rain skirt is worn over normal clothing. Thanks to the wide Velcro strap, the skirt can also be adjusted steplessly on the.
No slipping when cycling
The additional rubber band in the foot area is simply pulled through the eyelets and closed, which means that the knees are protected from wind and rain as well. The skirt also does not slip when cycling and won't get tangled in the spokes
The reflector tape sewn into the edges ensures additional safety in traffic!
Got wet? When you arrive at your destination, simply hang it up to dry by the eyelets and fold it into the practical bag after use. Done!
Can also be used with a higher center bar thanks to the ruffles!
Anyone who dares to ride a bike in heavy rain or hurricane gusts should, however, fall back on rain pants or, for safety reasons and as the skirt is not suitable for extreme weather conditions.

Ps. The skirt is also available in our new winter edition. Click here for the ► winter model .
Material:

70% polyester/ 30% polyurethane fabric | breathable

polyurethane coating
Wind and water resistant

Weight: 250g

Included in delivery: rain skirt and bag

Closure: Velcro at back

Bag:

19cm x 14cm x 4cm
WE HAVE CHANGED THE SIZES! BETTER FIT AND SEAT!
S/M 34-38 = approx. 100 cm

M/L 38-42 = approx. 110 cm

L/XL 42-46 = about 135cm




More colors are available

here
And how do I fold the skirt back into the supplied bag correctly?
Very easily:

★ Delivery time: 3 working days after receipt of payment | International: 3-5 business days